Happy Toilet Programme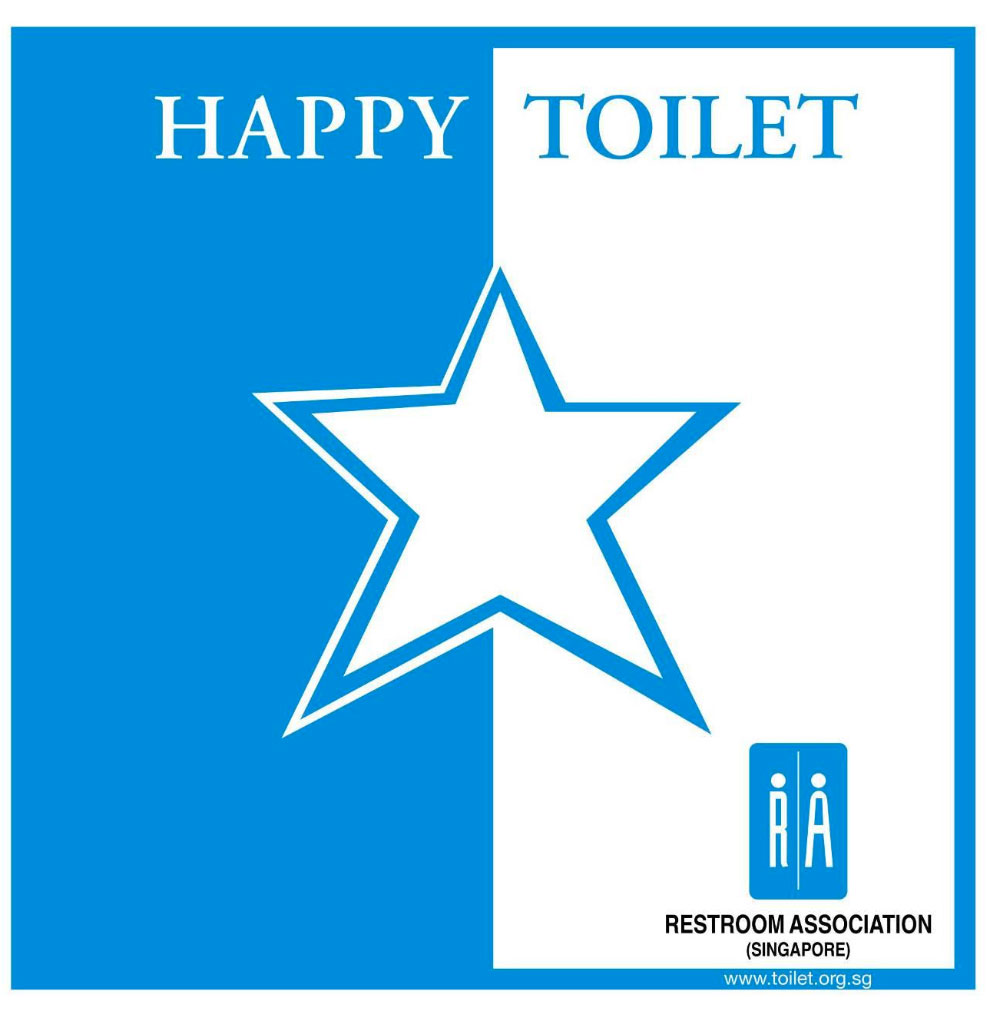 Happy Toilet Programme
The Happy Toilet Programme, developed and implemented by RAS, is supported by the National Environment Agency (NEA). RAS has been working with toilet owners in various sectors like Shopping Centers, Industrial & Commercial Buildings, Parks, Hawker Centres, Tourist Attractions and Petrol Stations.
Program Brochure
Application Form
This programme was launched by Mr Lim Swee Say, the former Minister for the Environment on 1 July 2003.

It is a star-grading initiative for public toilets which focuses on five main areas - Design, Cleanliness, Effectiveness, Maintenance and User Satisfaction. This allows users to leave the toilet happy, as the programme will ensure that they have the best experience, with all their needs met.

The cornerstone of the Happy Toilet Programme is a grading system, based on minimum and progressive standards that start at 3 stars, to 4 stars, 5 stars and a maximum of 6 stars. The 6-star rating is the latest highest accreditation introduced with effect from 1 January 2015.
Frequently Asked Questions
"HAPPY TOILETS, HEALTHY PEOPLE"
It's a fact! Clean toilets mean happier customers, and happy customers will keep coming back - for more shopping, more meals and more entertainment. It's time for the toilet revolution and to start talking about what matters to all of us - clean, healthy public toilets.
In total, we spend almost three years of our lives in the toilet; it's natural and it's normal, so let's learn to say, "Wow! That's a great toilet!" and tell our friends about it. Let's recommend our favourite coffee shop, or a particular cinema or park, because the toilets are clean and, which adds to the whole experience.

Going to the toilet is as much a part of our culture as eating and drinking, and clean, well-maintained, "Happy Toilets" will keep customers coming back for more. This was proven through the Loo of the Year Award in Britain, where winning shopping centres, hotels and restaurants found that providing excellent public toilets earned them strong dividends through increased shopper traffic and occupancy rates.

Running a "Happy Toilet" is about daily cleaning, and it's also about toilet design, construction and, of course, the customers. Think about it! Office workers have different needs to the family out shopping together; children have different needs to adults, women to men. The handicapped, visually impaired and even the mother with a young baby all have special requirements. Look after the customers and they will look after you - and keep coming back for more food, better shopping and, guess what - to visit your toilet because it's a "Happy Toilet".

The Restroom Association of Singapore is proud to launch the "Happy Toilet" programme to grade Singapore's public toilets on a three, four or five star rating. Working together with the National Environmental Agency (NEA) and the World Toilet Organisation, our dream is to make our public toilets another icon of Singapore's star quality. We hope you will join us in this effort and look forward to working together with you.
Q1. WHAT IS THE "HAPPY TOILETS" PROGRAMME"
The "Happy Toilet" programme is an initiative by the Restroom Association of Singapore (RAS) that awards public toilets a three, four or five star rating for their standards and excellence. The very best public toilets, which meet all of the design, quality and maintenance criteria set out by the RAS, will receive a six-star rating. All public toilets with three stars and above will be allowed to carry the "Happy Toilet" logo.

The "Happy Toilet" scheme aims to raise the standard of public toilets throughout Singapore and promote those establishments that look after the needs of their customers. Participation is entirely voluntary and will be managed according to guidelines set out by the RAS and endorsed by the World Toilet Organisation.
Q2. HOW DOES THE GRADING SYSTEM WORK?
A "Happy Toilet" award is given to the public toilet owner or manager for maintaining facilities of exceptional standard. As the programme expands, the public will be confident that the "Happy Toilet" icon will mark those public toilets of outstanding quality where the facilities will cater to their needs.

Application is open to all owners of public toilets in Singapore, anytime throughout the year. Once graded, the certification of quality has 12 months' validity. "Happy Toilets" will be promoted through the RAS website so that the public can identify star graded facilities.

3 Stars means Clean Restrooms (At least 60 points)
Facilities in working condition
Provision of basic amenities i.e. hand soap, toilet paper, etc
No odour, litter-free
Reasonably dry floor and facilities
4 Stars means Good Restrooms (At least 86 points)
Facilities in working condition
Provision of basic amenities i.e. hand soap, toilet paper, etc
No odour, litter-free
Reasonably dry floor and facilities
Special delights and/or user-friendliness facilities
5 Stars means Premium Restrooms (At least 96 points)
Facilities in working condition
Provision of basic amenities i.e. hand soap, toilet paper, etc
No odour, litter-free
Reasonably dry floor
Special delights, user-friendliness and/or eco-friendly facilities
6 Stars means Magnificent Restrooms (At least 104 points)
Facilities in working condition
Provision of basic amenities i.e. hand soap, toilet paper, etc
No odour, litter-free
Reasonably dry floor
Special delights, user-friendliness and eco-friendly facilities
Adoption of holistic technology namely Detect, Feedback, Eliminate & Clean (DFEC) to increase productivity and efficiency
Cleaning attendants completed the Singapore Workforce Skills Qualifications (WSQ) module in washroom cleaning and RAS training in washroom inspection
All toilets e.g. shopping centre toilets meet the above 6-star requirements

Q3. WHAT IS THE CRITERIA FOR ASSESSMENT?
The assessment criteria will vary depending upon the category of each public toilet facility and will take into account the needs of each target public. Shopping malls have to meet different customer needs than offices and factories. Outdoor public toilets will be very different to the toilets that are located in a rail or bus station. The number and types of people using the service is important in the design of the facilities and a "Happy Toilet" will take all of these criteria into account.

Toilets assessed are based on the set of criteria listed below:
(i) Provisions & Conditions
(ii) System of Maintenance & Comfort Level
(iii) Special delights and User-friendliness

(i) PROVISIONS & CONDITIONS
Clear Signage
Clean & Dust Free Door
Dry & Litter Free Vanity Top
Functional & Clean Taps
Stain Free & No Cracks Mirror
Working Hand Dryers
Sensor Flush Functional
Provision of WC Tap
Clean Sanitary Bins
(ii) SYSTEM OF MAINTENANCE
Optimised Cleaning Schedule
Updated Inspection Records
Trained Cleaner e.g. NSRS, RSTC certified
System for Remedial Actions
Good Toilet Layout
General Ventilation
Concealed Pipeworks
(ii) SPECIAL DELIGHTS
Modesty Boards for Urinals
Ledge for placing belongings
Diaper Changing Station
WC for Children
Fully functional Handicapped Toilet for the Disabled
Easy access with Ramps
Cleaner's compartment that's neat and adequately stocked
Q4. WHO WILL BE THE JUDGES FOR THIS PROGRAMME?
Each public toilet will be assessed by qualified, independent representatives of the RAS in accordance with the above criteria who will determine the overall standard of each toilet block. This will then be compared with the "Happy Toilet" guidelines and a three, four or five star award will be given if the requisite standards are achieved.
Q5. WHO CAN APPLY?
The scheme is open to all owners and managers of public toilets and takes into account the different needs and standards on each category. (See application form for more details.)
Q6. WHEN WILL I BE ASSESSED?
The assessment will be conducted upon acceptance of the completed application form together with the appropriate fee payable to the Restroom Association of Singapore. Public toilet owners who have already participated in the programme can request for a re-assessment if their toilets have undergone extensive upgrading or major improvement works. Qualified assessors will be appointed by RAS to conduct the grading assessment.
Q7. HOW MUCH DOES IT COST?
(i) Less than 20 toilets
Each Cubicle
- S$16
Each General Area (wash area + 2 urinals for male toilets)
- S$45
More than 2 Urinals
- S$16
Each Stand-alone Handicap unit
- S$20
Each Certificate
- S$10
(ii) 20 to 39 toilets
- S$100 each
(iii) 40 toilets and above
- S$80 each
(iv) 3-Year participation
- S$80/S$100 per toilet per year
Q8. HOW IS A PARTICIPANT AWARDED?
A "Happy Toilet" plaque will be given to qualified public toilet owners for display at the entrance of the toilet. In addition, they will be issued with a certificate valid for a period of one year from the date of its issuance and the facility will be promoted by the RAS as being of world class standard. An annual re-assessment will be required for any facility to maintain its "Happy Toilet" status.
Q9. WHAT HAPPENS IF MY PUBLIC TOILET IS SUBJECT TO DAMAGE OR ABUSE?
The public will be able to provide feedback to the RAS about the state of public toilets and, in the case of a "Happy Toilet" being reported as below par, the matter will be reviewed by the RAS. Should there be a continuous deterioration of the standard of the toilet at any point in time before the one-year period is due, to the extent that it does not befit the status accorded, the award will be withdrawn.
Q10. HOW DO I APPLY?
Please download the application form and fax it to us at 6297 9825.