RAS unveils plans for higher Happy Toilet standards
At the 11th LOO (Let's Observe Ourselves) Awards ceremony held at Heartbeat @ Bedok to commemorate World Toilet Day, the RAS supported Singapore's bid towards a smart nation by introducing the adoption of the holistic Detect, Feedback, Eliminate & Clean (DFEC) smart solutions for its Happy Toilet Programme. "Detect" means the use of sensors to detect and monitor any defects or situations, "Feedback" means the use of interactive feedback systems for defects or situations which cannot be effectively monitored by sensors, "Eliminate" means the use of green sanitisers, deodorisers such as ozonated water and protective coatings to eliminate odour, germs and stains. "Clean" not only means the adoption of technology to facilitate toilet cleaning but also the adoption of facilities for self-cleaning <![if !vml]>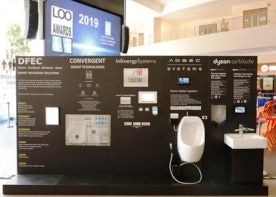 <![endif]>by users such as the use of bidets and taps integrated with fast and hygienic hand-drying functions for effective hand washing.
Currently, only 6-star toilets need to meet the criterion on the adoption of all four DFEC smart solutions to increase productivity and efficiency. With effect from 1 April next year, 4-star toilets will need to adopt at least one of the DFEC smart solutions while 5-star toilets will need to adopt at least two of the DFEC smart solutions. The assessment criteria of 3-star toilets will remain unchanged. The required scores for the respective star-ratings will also remain the same. These revised criteria will not only encourage the adoption of smart solutions but most importantly translate to better productivity and efficiency in toilet maintenance.
[Media Release] [View Photos] [View Video]
RAS gives out 42 awards at the 11th LOO (Let's Observe Ourselves) Awards
42 exemplary organisations and individuals were recognised at the 11th LOO Awards. Among the recipients, 10 outstanding restroom attendants, who each received $200 worth of grocery vouchers, were also recognised. Madam Yeo Yoke Soi from APSN Katong School was commended by Guest of Honour Dr Amy Khor for achieving the highest categorial score among the attendants. Madam Yeo not only has 16 years of experience in the cleaning sector but also consistently upgrades herself to complete six WSQ environmental cleaning modules. Dr Khor also expressed her support on the adoption of smart restroom solutions to increase productivity and cited award recipients SMRT Trains Ltd and Sentosa Development Corporation as good examples. Four young champions were also singled out by Dr Khor in her speech, for being strong advocates of clean toilets. Student leader Emma Chan from Chongfu Primary <![if !vml]>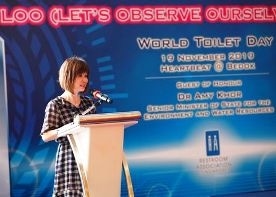 <![endif]>School, led her team in restroom decorations, poster designs and conducted assembly sharing to educate everyone to upkeep the maintenance of the toilets in the school. She also undertook cleaning tasks in her school.
As an active member of the 'Friend of Singa' programme, Shuanne Seah from CHIJ Kellock, led her team to create restroom etiquette teaching slides for the prefects to present to all the Primary 5 and 6 classes. She also presented the slides to Primary 4 students and carried out routine cleaning, spring cleaning and canteen duties in the school. Similar to Shuanne, Taylor Kenneth James Tadlas from Park View Primary School did his sharing during assembly and also took up an active role as an inspector to assess restrooms and provide feedback to his school. Playing an active role as a Green Club member of Westwood Primary School and undertaking the same inspector role to assess restrooms, Tricia Chan not only presented to her school but also conducted outreach to the elderly from SilverAce Eldercare Centre and to MOE Kindergarten pupils. She also organised an activity to appreciate restroom attendants and purchased fruit packages for them. From their contributions, these four award recipients, who were also the youngest recipients, have subtly taught us that everyone can make a difference to the restroom environment.
RAS certifies the first integrated community and lifestyle hub under the Happy Toilet Programme (HTP)
The strong commitment of Heartbeat @ Bedok was demonstrated months before its 5-Star Happy Toilet accreditation when they wrote to RAS seeking possible means to initiate social behaviour changes and positively change values, attitudes and behaviour of its patrons so that they can take personal ownership of keeping the public spaces clean and beautiful especially the toilets. After a <![if !vml]>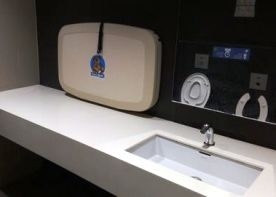 <![endif]>meeting, they were very supportive of partnering with RAS on a World Toilet Day event from 17th – 19th November with the LOO Awards ceremony to be held on 19th November.
Prior to the World Toilet Day event, Heartbeat @ Bedok actively planned for its 24 toilets to be assessed under the HTP and all its toilets were certified 5 stars. The hub houses a polyclinic, library, senior care centre and sport centre including a swimming pool, sports hall, etc. The Heartbeat @ Bedok is part of the People's Association and the second integrated community and lifestyle hub to be constructed after Our Tampines Hub.
RAS presents vouchers to cleaning attendants at Heartbeat @ Bedok
Prior to the LOO Awards on 19th November, from 17th – 18th November, exhibitions and educational games were conducted for the public. Exhibition panels about RAS' preschool, school and public education programmes, and a Happy Toilet mock-up of Detect, Feedback, Eliminate & Clean (DFEC) smart solutions were on display. A colouring activity on restroom-etiquette colouring sheets was conducted to educate the young. The LOO (Let's Observe <![if !vml]>
<![endif]>Ourselves) Whiz mobile app game was also available for the public to experience the challenges of cleaning restrooms dirtied by irresponsible users.
As part of the collaboration with Heartbeat @ Bedok, 46 cleaning attendants at the Heartbeat @ Bedok were also awarded with a total $1,840 worth of grocery vouchers. Each cleaner received $40 worth of vouchers. The vouchers were purchased from donations made to the RAS via the Giving.sg portal. At the LOO Awards, another $2,000 worth of vouchers were presented to 10 cleaning attendants, who each received $200 worth of grocery vouchers and a plaque, for their strong commitment in maintaining quality restrooms.