<![if !vml]>

<![endif]>
RAS holds the inaugural LOO Awards 2009
On 2nd December, the 15 recipients of the inaugural LOO (Let's Observe Ourselves) Awards received their awards from Guest-of-Honour, Mr Andrew Tan, Chief Executive Officer of the National Environment Agency (NEA), during a networking dinner session at the World Toilet Summit & Expo (WTSE). The 15 recipients comprised of three private-sector organisations, two public-sector organisations, three educational institutions, a cleaning contractor, a restroom cleaner, two public-sector individuals, a youth, our Star Certified Eco-Assessor and Star volunteer.
On 19th November, in conjunction with World Toilet Day, the 15 recipients' names were announced at a media conference held in a Koufu's coffeeshop – Ang Mo Kio VariNice Eating House - for the first time. Koufu is also one of the award recipients having the first foodcourt toilet to be awarded 5-stars and the first coffeeshop toilet in the Central Singapore district to be awarded 4-stars. Nominations for the <![if !vml]>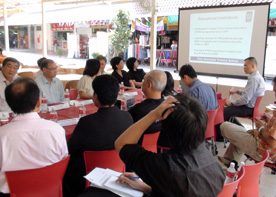 <![endif]>awards were opened from 18th June to 31st October. A total of 24 nominations were received for all the categories. Nominations for the awards were opened from 13th June and closed on 31st October. A total of 24 nominations were received for all the categories. The LOO Awards is initiated to acknowledge organisations and individuals who have contributed to help Singapore achieve a world recognised standard of toilet cleanliness.
[More Details] [View Photos] [View Video]
<![if !supportLineBreakNewLine]>
<![endif]>
RAS plays its part as a local partner of the World Toilet Summit & Expo (WTSE) 2009
The WTSE organised by the World Toilet Organization (WTO) and MP International, opened its doors to local and foreign delegates and guests from 2nd to 4th Dec at Suntec Singapore. As a local partner of the WTSE and a founding member of the WTO, RAS had been working closely with the organisers for the past few months to showcase and share its programmes with the visiting delegates and guests. Apart from hosting the LOO Awards ceremony, RAS also set up a mobile exhibition – RAS Learning Pavilion – on Singapore's sanitation to showcase the achievements and future development plans. The pavilion is positioned as a platform to showcase the different <![if !vml]>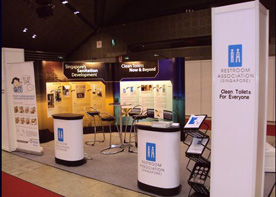 <![endif]>facets of sanitation development in Singapore since the 1960s. It presents an enriching and educational journey for the visitors to understand the significance of sanitation and its social, cultural and environmental impact on the city of Singapore. The pavilion will reach out to the community at large via roadshows and events next year.
During the three-day exhibition, projects and work from the students of Si Ling Primary School were displayed and the teachers and students volunteered their time to share their efforts with the delegates and guests visiting our pavilion. At a break-out session on 3rd December, RAS also shared its expertise on school sanitation to the visiting delegates, touching on the objectives, approaches and processes of its school outreach programmes such as its Happy Toilet School Education (HTSE) and Appreciating Clean Toilets In Our Neighbourhood & School (A.C.T.I.O.N.S) programmes. The first World Toilet Summit, now known as the World Toilet Summit & Expo (WTSE), was inaugurated in Singapore in 2001 by the WTO. RAS is pleased to see this signature event returning to Singapore this year and is proud to be the local partner.
RAS President honoured for her contributions at the Hall of Fame award ceremony
After receiving the Eco-Friend Award from the National Environment Agency (NEA) on 10th July, our President was conferred another award being inducted to the Hall of Fame by the WTO during the closing ceremony of the WTSE on 4th December, for her distinguished contributions to advocating clean restrooms for everyone in Singapore. She has been volunteering with RAS since 2003 and was appointed <![if !vml]>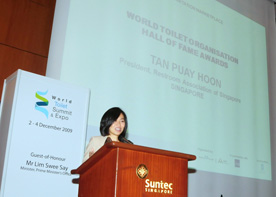 <![endif]>President in 2007. She is also the Chairman for the Inter-Agencies Working Committee on Public Toilets. She spearheaded many of our milestone initiatives such as the Happy Toilet School Education programmes for schools (HTSE) and Preschools (HTSEP), the Certified (CEA) and Volunteer Eco-Assessor (VEA) programmes, the LOO Campaign and the LOO Awards.
Our President hopes that the day will come when people all around the world will be provided with basic sanitation. She believes in taking social responsibility to educate and create awareness about good sanitation so as to provide a sustainable living environment for all. The other two laureates of the WTO's Hall of Fame Award 2009 are Dr Clara Greed and Minister Datuk Robert Lau. Some of the past distinguished recipients of the Hall of Fame were Dr Bindeshwar Pathak, Prof Koo Ue, Dr Kamal Kar, Dr Arno Rosemarin and Dr Joe Madiath.
RAS showcases its exhibits at the Clean and Green Singapore (CGS) 2010 Carnival
RAS was invited by the National Environment Agency (NEA) to set up a display booth from 30th October to 1st November at the CGS 2010 Carnival held at HortPark. The CGS 2010 was successfully launched by Guest-of-Honour, Prime Minister (PM) Lee Hsien Loong, on 30th October. At the launch, many individuals and communities also received the CGS Awards, to recognise their outstanding efforts to maintain and improve our living environment. Among them were some restroom cleaners of five-star Happy Toilets <![if !vml]>
<![endif]>who received awards for the Best Cleaners category. Going beyond the normal practice, RAS took the innovative step to distribute complimentary hand sanitizers sponsored by the Initial Hygiene and shared with the visitors, both young and old, about good toilet etiquette which included a hand-washing exercise. The three-day event saw a good turnout of 22,000 people from all walks of life.
Since its inception in 1990, CGS 2010 is the 20th Clean & Green campaign and this year also marks the 40th year of Singapore's Clean and Green journey. The highlight of the event was the exhibition on Singapore's 40-year Clean and Green journey, where the multi-faceted effort in creating a clean and green environment was showcased. The three-day event was organised by the NEA and South West Community Development Council, with support from the National Parks Board and PUB. It aims to inspire the public to protect and take greater ownership of our living environment.
[More Details] [View Photos]
<![if !supportLineBreakNewLine]>
<![endif]>
RAS participates actively in other CGS community events
With the successful launch of CGS 2010 on 30th October, RAS continued its active participation in other CGS events for three weekends in November. On 8 November, RAS was one of the main partners at the North West CGS Carnival, to support the launch of Green Living @ North West which was held at the Republic Polytechnic. On 15 November, RAS was invited by the Tampines Changkat Citizens' <![if !vml]>
<![endif]>Consultative Committee to set up a booth at their annual CGS event held at their Residents' Community Garden. Following the successful run at the CGS 2010 Carnival from 30th October to 1st November, RAS continued its joint initiative with the Initial Hygiene to share good toilet etiquette tips with the visitors for the two events. 
RAS injected more life into their booth at the North East Challenge Walk in Celebration of Singapore 2010 held at White Sands Open Field from 28th to 29th November. Visitors to our booth were not only briefed on good toilet etiquette tips but were also invited to pen down their toilet wishes for 2010 or good toilet etiquette tips next to our LOO Pledge. On 29th November, Guest-of-Honour, Deputy Prime Minister Teo Chee Hean, also visited our booth after making his speech and presenting the CGS Awards.
RAS works with youths of ChangeMakers Conference (YCMC) to educate primary students
On 18th and 19th November, students from the College section of Hwa Chong Institution (HCI) conducted toilet-related games, activities and an exhibition at Yew Tee Primary School. Their efforts tied in with their commitment to the YCMC held on 18th and 19th July. These students spent many hours planning and executing different activities at the school and were successful in achieving their objectives.
After an assembly talk was conducted by RAS on 5th November for Yew Tee's Primary 3 pupils, HCI students went down to conduct interesting games and educational activities for each of the primary three classes. At the exhibition area at the canteen, pupils were invited to see the displays and also <![if !vml]>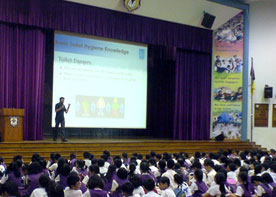 <![endif]>answered quiz questions to get attractive prizes. RAS recognises and commends our HCI youths for taking the time to be good Big Brothers and Sisters and praises them for their community involvement. We look forward to inviting more youth groups to follow suit and initiate similar programmes with us.
[More Details]
<![if !supportLineBreakNewLine]>
<![endif]>
For the past three consecutive years, RAS had been invited to the Clean and Green Singapore (CGS) Schools' Carnival to showcase its school outreach programmes and conduct fun-filled and educational activities that promote good toilet etiquette. From 10th to 11th November this year, at a section of the carnival - Wonderland – that was specially set aside just for preschoolers, RAS held the <![if !vml]>
<![endif]>LOO quest game, a toilet-etiquette version of snakes and ladders, for the preschoolers to pick up good habits and tips on how to be a responsible toilet user. The two-day event was organised by NEA together with co-organising schools and partners. The event held at the Anchor Green Primary School saw over 210 participating schools, from preschool to pre-tertiary levels, as compared to the 190 participating schools the previous year at Suntec City.
For the first time, RAS was involved in the Enviro-Life Sciences Symposium 2009 organised by the Dunman Secondary School on 14th November. RAS helped to reach out to more students with its educational programmes and projects which students can embark and research on. This event, which was held for the third year for both primary and secondary schools, aimed to inculcate investigative research skills and self-development as well as interest in the field of environmental and/or life sciences. The theme for this year's symposium is "Celebrating Possibilities in Life Sciences and the Environment".
[More Details] [View Photos]
<![if !supportLineBreakNewLine]>
<![endif]>