RAS gears up for SaniGives
<![if !vml]>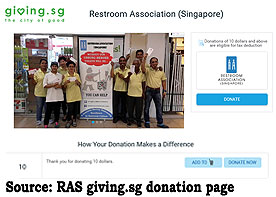 <![endif]>In November last year, after analysing the survey results in its collaboration with SurveyMonkey, RAS unveiled plans for SaniGives, a new initiative recognising cleaning attendants. RAS actively reached out to its existing partners namely Adkel Solutions, Adsec Global, and Viso to support SaniGives. This partnership will raise donations of up to $60 for purchase of a single product by the public. The donations will be made to RAS for the purpose of organising tribute meals and presenting grocery vouchers to cleaning attendants during appreciation activities. Members of the public who donate to RAS online via www.giving.sg/restroomassociation, will benefit from discounts of up to $60 when they purchase products directly from the three partners.
Apart from approaching the Singapore Sanitary Ware Importers & Exporters Association to invite its members to support SaniGives, RAS also met up with TOTO Asia to seek its support. RAS has targeted Our Tampines Hub (OTH) as the venue for the LOO (Let's Observe Ourselves) Awards which will incorporate the launch of SaniGives. RAS has discussed with the People's Association to seek possible collaborations of holding a 3-day carnival at the OTH to raise public awareness about SaniGives and organise an appreciation activity for restroom cleaning attendants in the East. In its bid to raise further public awareness about SaniGives, RAS has also written to supermarket chains to support SaniGives and help publicise it at their outlets.
RAS certifies SAFRA Punggol and new SMRT train stations under the star-rated Happy Toilet Programme (HTP)
Since the launch of the star-rated HTP in 2003 during the SARS crisis period, none of the recreation clubs have been accredited though its toilets are frequented by its members. SAFRA Punggol has become the first club to assure its members on their commitment to provide quality star-rated restrooms. On the day of the accreditation, RAS also offered its partners' solutions to SAFRA Punggol with demonstrations which can effectively sustain the quality <![if !vml]>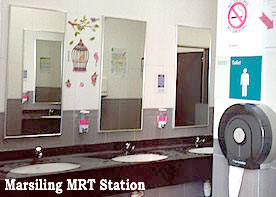 <![endif]>standards of its restrooms. RAS is urging more recreation clubs to emulate the commitment of SAFRA Punggol to achieve star-rated restrooms for its members
The restroom standard of train stations, which are managed by SMRT, has been much enhanced over the years since its first accreditation in 2013. After 11 Circle Line train stations were accredited, train stations along the North-South and East-West lines followed suit in 2015. Last year, RAS partnered with Da Qiao Primary School for its students to design educattional posters which were displayed at some stations. RAS will continue to work closely with SMRT in its educational outreach to commuters. As we aspire all train stations to be accredited in the coming years, we will next lobby the support of SBS Transit train stations along the North East and Downtown lines to be accredited.
RAS certifies first MOE Kindergarten under the Happy Toilets @ Preschools Programme (HTPP)
MOE Kindergarten @ Dazhong was among the 30 preschools that signed up for the HTPP at the Pre-school Environmental Education Advisor Networking Session organised by the National Environment Agency (NEA) in July last year. Since the launch of the HTPP in 2015, RAS has reached out to 90 preschools. <![if !vml]>
<![endif]>Preschools from PAP Community Foundation (PCF), NTUC First Campus namely My First Skool and Little Skool House, G8 Education namely Cherie Hearts, Our Juniors' Schoolhouse, and Bright Juniors have participated including smaller preschools as well.
Under the HTPP holistic programme, apart from washroom inspections, children, parents, teachers and cleaners are approached as follows:
Hygiene talks and activities for children: Good practices such as handwashing steps against communicable diseases such as Hand, Foot & Mouth Disease (HFMD)

Hygiene talks for parents: Good practices against communicable diseases such as Hand, Foot & Mouth Disease (HFMD) and guide to handle HFMD-infected children including method of clearing human discharge such as vomit, blood, etc.

Workshops for teachers: Tips on effectively engaging children on hygiene and method of clearing human discharge such as vomit, blood, etc.

Training for cleaners: Method of clearing human discharge such as vomit, blood, etc. Correct use of chemicals, prevention of cross contamination, etc.
RAS conducts educational talk at Children's Cancer Foundation (CCF)
RAS accepted an email invitation by the CCF to conduct a talk for students as one of their educational enrichment lessons under the CCF PALS (Place for Academic Learning and Support) programme. The RAS talk at CCF is favourably viewed as a priority for its students who have a lower immune system and thus require an infection-controlled environment. The contents of the <![if !vml]>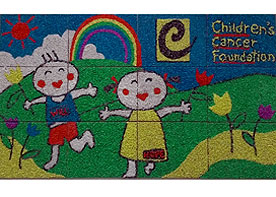 <![endif]>talk cover areas in the toilet with high bacteria count, prevention of the "sneezing effect" from flushing, proper handwashing, etc.  
CCF is a fully self-funded voluntary welfare organisation with the mission of improving the quality of life of children with cancer and their families through enhancing their emotional, social and medical well-being. The meaningful PALS programme provides transitional support for children with cancer. The interim learning centre accepts children and youths who are undergoing cancer treatment and thus have to be temporarily absent from their mainstream school. Besides academic teaching, enrichment activities are incorporated, which are similar to what mainstream schools offer for their students.