RAS introduces new LOO (Let's Observe Ourselves) Kidz award category under its LOO Awards
With RAS reaching out to more than 100 primary schools since the launch of its STAR (Sustaining Toilets As Restrooms) Awards Programme in 2011, commendable students who were actively involved in executing related projects should not go unnoticed. Though the existing Individual category of the LOO Awards <![if !vml]>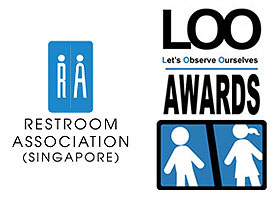 <![endif]>includes students, there has not been any nominations. After seeking feedback from school stakeholders, it is timely we introduce a new LOO Kidz category specifically for primary students since we have already built up a vast network of primary schools over the five-year period.
The LOO Awards was first initiated in 2009 to acknowledge organisations and individuals who have contributed to helping Singapore achieve a world recognised standard of toilet cleanliness. The LOO Awards is also in line with the last of the four pronged approach of the LOO Campaign which was launched in 2008. Since 2009, more than 130 owners, operators, schools, cleaning companies, cleaning attendants and individuals have clinched the award. Apart from receiving plaques, the cleaning attendants were also presented with public-donated grocery vouchers to help them cope with rising living costs.
RAS conducts first preschool activity under its Happy Toilets @ Preschools Programme
With preschools participating in our newly-launched Happy Toilets @ Preschools Programme (HTPP) last year, this year will see these preschools renewing their participation with us. Last year, through games, songs and rhymes, interactive talks were conducted for preschoolers to help them develop a better understanding of toilet hygiene, handwashing, germs and infectious diseases such as Hand Foot and Mouth Disease. After the hygiene talks for preschoolers last year, activities will follow suit this year to further reinforce the importance of proper toilet hygiene and the right steps of handwashing.
<![if !vml]>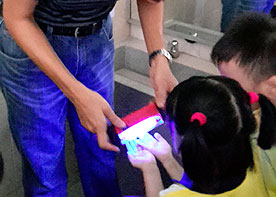 <![endif]>On 8th June, RAS conducted its first activity for preschoolers from Sunflower Preschool @ Punggol Field Walk. Preschoolers were led to the toilets to first look at a "clean" toilet bowl which was covered with dried stains. The stains were not visible under normal fluorescent lightings. Preschoolers were thrilled to see the stains lighting up under the UV light after the normal lightings were switched off. The importance of proper handwashing was then intensively shared with the preschoolers to educate them that toilets were always the best hiding place for germs and therefore proper handwashing was essential. The preschoolers were then given proper guidance on the steps of handwashing prior to washing their hands. This was followed by an inspection to ensure none of their hands lit up under the UV light after handwashing. Preschoolers were finally rewarded with the HTPP logo thumbs-up stickers for successfully completing the handwashing activity. We foresee more new preschools seeing the value of HTPP and actively come forth to participate actively.
RAS participates in Citi-YMCA Youth For Causes (YFC) 2016
In February, as part of their service learning project, four passionate Nan Chiau High students approached RAS to express their strong interest of helping our beneficiaries – low-wage cleaning attendants. RAS took the opportunity to invite them to participate in the Citi-YMCA YFC 2016 to raise funds for the cleaning attendants. At the YFC selection interview session, the students formed a team by the name of "Operation Umbaka" and presented their proposal of organising a series of fundraising activities, such as street sales and a family event to further raise public awareness to the judges.
<![if !vml]>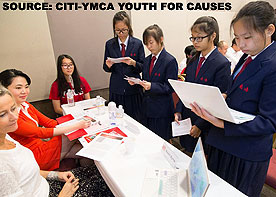 <![endif]>Besides fundraising, the team went the extra mile to rope in other classmates to undergo a training session on restroom cleaning conducted by the RAS on 27th May so as to better prepare all of them for the actual restroom cleaning at Serangoon Garden Market and Chomp Chomp Food Centre from 20th to 21st June. This is part of their efforts of developing a better understanding on the job scope of cleaning attendants so as to enable them to share their stories with others. The team was among 100 teams selected at the interview session. 73 Voluntary Welfare Organisations (VWOs) including RAS were approved by the YFC Secretariat to participate in the YFC this year. Participating VWOs need to be conferred with a valid Institute of Public Character (IPC) status as well.
RAS supports 30 Hour Famine Camp organised by World Vision Singapore
World Vision Singapore (WVS), organiser of the 30 Hour Famine Camp, approached RAS for partnership opportunities in January long before the camp was held from 10th to 11th June. The camp encompassed community service activities for camp participants who were all youths, to roll up their sleeves and perform tasks that would enable them to better experience the predicament of living in poverty so as to readily lend a helping hand to the destitute. Restroom cleaning was conceived as one of the activities by WVS.
<![if !vml]>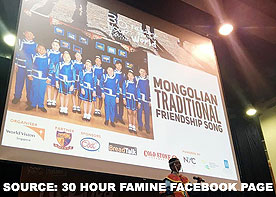 <![endif]>The restroom cleaning activity on 11th June at two hawker centres namely Serangoon Garden Market and Chomp Chomp Food Centre served as an important platform for WVS to educate camp participants about the often overlooked challenges faced by low-wage cleaning attendants who had to perform arduous work daily to maintain public cleanliness and cope with rising living costs amid low salaries. As a supporter, RAS was invited to the closing ceremony of the Famine Camp on 11th June in the afternoon to mark the end of the 30-hour fast with prize presentations to outstanding groups, and performances by young artists, including special items by Otgon, the talented WVS' beneficiary from Mongolia's award-winning Blue Sky Choir.